WIRELESS

Fastus is a wireless system which lets appliances to communicate with each other using ZigBee Radio Frequency – it has the following advantages over other home automation systems.

Easy and quick installation.
Operates wirelessly resulting in no damage to your homes.
ZigBee is very reliable and provides highest standards of encryption thus making the entire system hack-proof.
Completely scalable, thus allowing your home to become smarter with easy add-ons.
CONTROL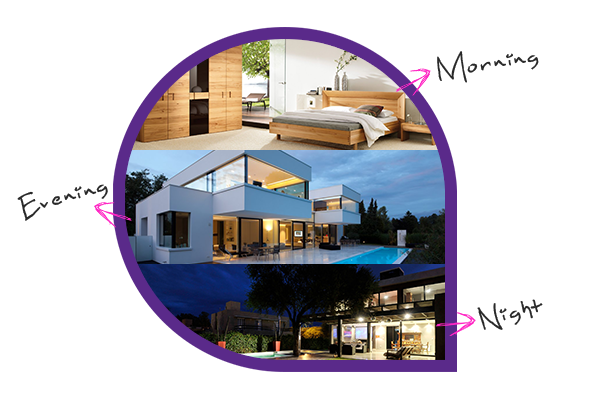 Simplify switching lights on and off, dimming lights to desired levels, and set scenes such as:
Morning
: All outside lights OFF, Kitchen, passage and bathroom lights ON.
Evening
: Outside lights ON,
: Entrance hall, lounge and dining room lights set to 50% dim.
: Curtains closed.
Sleep
: All living area lights OFF
: Outside selected lights ON.
MANAGEMENT
Loads such as pumps, heaters and air conditioners can be switched on / off according to preset "events/schedules" such as time of the day, temperature or light intensity levels.
FUNCTIONS
Security

Protects your home and loved ones 24x7.

Safeguards your home against unwanted intrusion and keeps a watchful eye, even when you're away. Plus it protects your home from accidental fire, gas leak and floodwaters. It can even send you an alarm by SMS.
Surveillance

Monitor your home from anywhere.

You can monitor your home network cameras through any smart phone or PC from anywhere.
Energy Management

Save energy, save the planet.

Fastus helps you to keep energy wastage under check. Automated timer control ensures power-hungry appliances are used only when required. Sensor controlled lights and fans can be turned off when not in use.
Access Control:

Control admission to designated areas by using the Fastus access control systems. Access cards/ finger print scanners/ key based entry systems can control access to your doors and other secured areas. You can control access with your smart phone.
Entertainment

You can manage the entire home entertainment system. Pipe music throughout your home; Switch on your media server to watch your favorite movie, or just sit back and watch a game; With a single touch you can switch on your home theater system (power on all devices, close the curtains, switch off the lights etc).
Interfaces & Software

We give you the power to talk to your home from anywhere, wirelessy; using a variety of devices.